Leadership Tulsa is now accepting applications to Class 3 of the Hispanic Leadership Institute, in partnership with the Tulsa Hispanic Chamber.
The Hispanic Leadership Institute (HLI) promotes the individual development of Tulsa-area Hispanics/Latinx for increased participation in leadership roles.
HLI allows individuals to develop and expand their knowledge, leadership skills and connections to take an active role in the community. HLI also offers participants the opportunity to engage with Tulsa's foremost business and policy authorities in a continuing dialogue about leadership and the civic sector. Participants will be encouraged to give back to the Tulsa region through a shared community project.
TARGET PARTICIPANTS
Hispanic/Latinx, ages 21 to 45, who reside and plan to stay in the Tulsa region.
Willingness to learn and be introduced to local community organizations and businesses.
Individuals who have exemplified leadership qualities in their professional environment and who are looking to expand their leadership skills.
DATES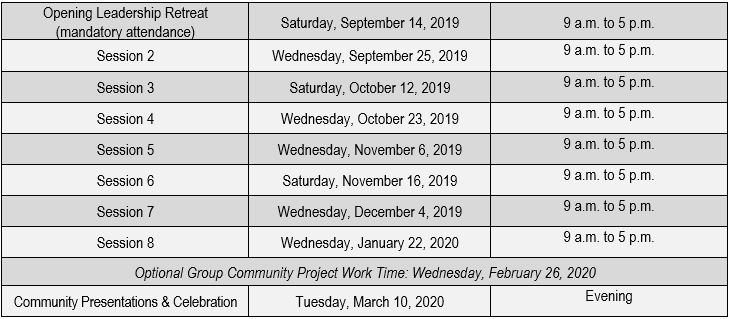 PROGRAM FEE + APPLICATION
The program fee is $600, paid by the individual, their employer or a community sponsor.
Payment plans are available and some tuition assistance may be available.
The application is due July 1, 2019. Click here to apply.
CURRENT PROGRAM SPONSORS
George Kaiser Family Foundation
Leadership Tulsa
Tulsa Hispanic Chamber