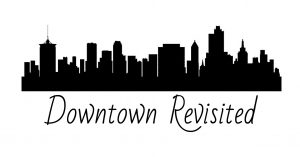 The Downtown Revisited experience is a brand new opportunity to engage with topics never before covered in an LT class. Tulsa's downtown has changed dramatically over just the past few years and we are never able to highlight everything the first time through. We hope you can join us for this truly unique all-day experience!
The Leadership Luncheon for the month of October will take place during our Downtown Revisited Day and is included in your sign up. You can also RSVP for the Leadership Luncheon separately here.
THE DETAILS:
Friday, October 12, 2018
8:15 a.m. to 4:30 p.m.
COST (includes Luncheon)
-$75 for dues-paying members
-$90 for non-dues-paying members
Space is limited to the first 50 people.
The agenda includes:
Panel to Discuss the Revitalization of Downtown- Hosted by Adam Paluka
Macy Snyder-Amatucci: Brickhugger LLC
Casey Stowe: Nelson+Stowe Development
Meagan Farley: Reporter at KOTV
Stanton Doyle: GKFF
City Hall Discussion Centers
Economic Development

Brian Kurtz, Downtown Coordinating Council Executive Director
Councilor Blake Ewing
And others

Planning (Arena District Master Plan)

Dawn Warrick, Planning Director
Councilor Ben Kimbro

Citizen Engagement

James Wagner, Chief of Performance, Strategy, and Innovation
And others
Leadership Luncheon with Rob Gardenhire, Chief Marketing Officer of USA/BMX
Included as part of our Downtown Revisited Day or can be signed up for separately
Presentation on the Tulsa Race Riot Centennial Commission with Jamal Dyer
Passport Tour of Arts District
Shuffles
Magic City Books
Elgin Park (Brewery Walk Through)
Glacier Bean to Bar (Tour of Bean to Bar Facility)
Tulsa Glassblowing (View glassblowing demo)
Ida Red General Store
Spinster
Woody Guthrie Center
Finish at AHHA
AHHA Experience and Studio Floor