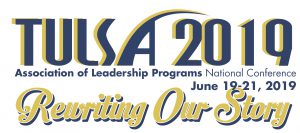 Leadership Tulsa is proud to announce that we will be hosting the Association of Leadership Programs national conference in June 2019 with hundreds of leadership professionals around the country gathering to share best practices and gain new ideas.  Tulsa is proud to be the only community nationally chosen twice to host the national conference. We last hosted in 1993, and it was the largest attended conference to-date.
This time our plan is to capitalize on dynamism of a city who is "Rewriting our Story" by inviting our guests to experience our world class architecture, dynamic art district, and learn how Tulsa is facing our difficult history of the 1921 Race Massacre.
Leadership Tulsa members interested in attending the conference can register by clicking HERE using the discount code Tulsa19. 
Leadership Tulsa can also help support the conference in the following ways:
Become a volunteer: Sign up here: https://tinyurl.com/VolunteerALP2019
Become a donor: Click here to give.
Have a booth as a vendor: Email wendy@leadershiptulsa.org
Purchase a ticket to our opening night part at ahha Tulsa on June 19:  Click here!
Participate in the Friday luncheon and post-conference workshop learning more about Asset Based Community Development. Click here to download the information sheet.
Click here to reserve your spot.
A complete list of our local hosted events is below:
———————————–
Tuesday, June 18, 2019
Early Arrivals: Dine Around the Deco District
5:30 – 7:30 p.m. Tour and Happy Hour; Dinner at 7:30 PM
Press Club: 415 S Boston Ave
Tulsa is home to America's second largest collection of Art Deco architecture in a city oil built.  Join our knowledgeable guides for a short tour of the beautiful buildings and underground tunnels on your way to the Press Club in the historic Atlas Life Building for cash bar and mixer.  From Happy Hour join one of our dining groups for a self-pay dinner in the Deco district.  Meet in the downstairs lobby of the Hyatt Hotel by 5:30 pm to join the tours.
———————————–
Wednesday, June 19, 2019
Preconference Event: Tulsa's Historic Greenwood District and the 1921 Tulsa Race Massacre: Courageous Conversations and the Work of Reconciliation
**Registration through Conference System from ALP
Participants will meet in the hotel lobby and enjoy a traveling workshop in the Tulsa community led by Leadership Tulsa.  This workshop will explore Tulsa's African American community, including its famed entrepreneurial sector, "Black Wall Street," the event commonly known as the "1921 Tulsa Race Massacre," and the resilience of the community in the wake of that catastrophe. Participants will also gain insight into how this historic trauma affected the city and the work of Leadership Tulsa.  Hannibal B. Johnson, Tulsa's foremost author and authority on the topic, will open the session with a comprehensive history around the flourishing Greenwood District, the build-up of tensions, and the circumstances that incited the violence.
Opening Night Party at ahha in the Arts District
6:00 – 8:30 p.m
ahha: 101 E Archer St
Tulsa's downtown renaissance includes millions of dollars of investment in a vibrant arts district. Our opening night party will be held at one of the most impressive new art centers where our guests can interact with the arts and each other.  Enjoy the exciting exhibits, hands-on arts activities, souvenir photo op, heavy "meal-worthy" appetizers and meeting new friends.  Enjoy our DJ on the outdoor patio with great views of our downtown skyline.  Each guest will receive two drink tickets and a cash bar will also be available. Conveniently located near a number of bars and restaurants should you desire to extend your evening.  Ride the Trolley transportation provided from the Hyatt or walk a path that will take you past the "Center of the Universe."
———————————–
Thursday, June 20, 2019
Awards Banquet Keynote Speaker:  Emeka Nnaka
Emeka Nnaka is a professional motivational speaker and leading advocate for individuals with physical challenges. He brings a message of determination, inspiration, and hope to audiences of all ages, young and old.
Awards Banquet After-Party at the Inner Circle Vodka Bar
9:00 p.m. til ?
Inner Circle Vodka Bar: 410 N Main St
Our official Thursday evening after-party will be held at the Inner Circle Vodka Bar, 410 N Main Street, across the street from the Historic Cain's ballroom.  Enjoy drink specials, outdoor games, DJ music, and a casual atmosphere hosted by Leadership Tulsa members. Request transportation by the hotel shuttle (unless it is engaged in airport runs) or catch an Uber/Lyft.
———————————–
Friday, June 21, 2019
Closing Luncheon Keynote & Post Conference Workshop w/ Byron P. White of the Asset Based Community Development Institute.
Asset Based Community Development (ABCD) is a strategy for sustainable community-driven development.  It is an approach keeping with the principles and practice of participatory development, where active participation and empowerment (and the prevention of disempowerment) are the basis of practice. ABCD draws out strengths and successes in a community's shared history as its starting point for change.  ABCD builds on the assets that are already found in the community and mobilizes individuals, association and institutions to come together to build on their assets–not concentrate on their needs. Click here to download the information sheet.
Click here to reserve your spot.